Grow A Profitable Amazon FBA Business With My Step-By-Step Formula…
(Even If You Don't Have Any Experience)
This offer is available for a limited time only
What If You Had An Easy Winning Strategy To Follow?
A few years ago, I managed to build a successful Amazon private label business that was profitable within the first 30 days of launching my very first product!

Here's how:

In 2017, I launched my first product on Amazon.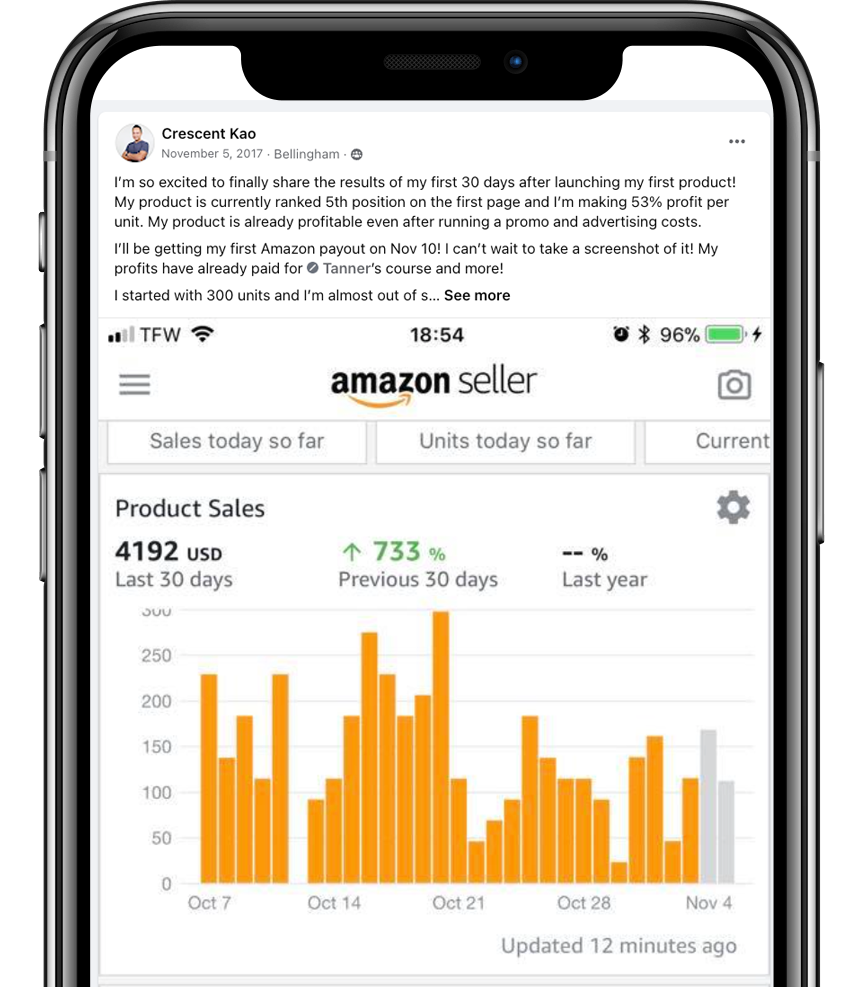 It wasn't easy. I sacrificed a lot and I worked really hard to solve it.

This wasn't some magic pill. I spent over $10,000 on training, mentorship, and books trying to figure out how to make this work.

And then almost out of nowhere, I cracked the code…

I was amazed that I could create a profitable business without having to learn any special skills in such a short amount of time.

Soon after I discovered how well this process worked with my own business, I began teaching it to others.

As of today, I've built a massive online community around selling on Amazon with over 80,000 followers, many of which are making $5k/mo, $10k/mo, even $100k/year with their Amazon FBA private label business using my system.

I've been able to help average people escape their 9-5 jobs and achieve more freedom to do what they want by growing a profitable Amazon FBA business.

If you'd like to put my method to the test, click here to book a 1-on-1 action call with me today and let's find out if my process is a good match for you…

Talk soon,
Crescent Kao

P.S. If you decide to work with me on your Amazon private label business, here's what we'll focus on…

#1: Product Discovery: The key to a successful Amazon business is selling the right products. While most people focus entirely on selling, the most important factor is selling products that are profitable.

By using specific product analysis techniques and planning, we will ensure that the products you decide to sell are in fact, profitable.
There's no point in selling products where there's little to no money to be made.

#2: Branding: Creating a strong brand and a unique competitive advantage is crucial to the success of a product
Utilizing techniques to create a strong brand image as well as a unique competitive advantage is what will set your product apart from other sellers and add value to your product.

Thus allowing you to build social proof, charge more, and maximize profits.

#3: Sales: Simply putting a product for sale on the Amazon marketplace doesn't lead to massive sales anymore.

Using modern product launch techniques that also take advantage of the honeymoon period will propel your product to the top of the search results.

By taking advantage of Amazon's Pay-Per-Click advertising system, you'll be able to put your product in front of buyers looking specifically to buy your product.

And using specific product listing and keyword optimization techniques, you'll be able to stand out from all the other sellers and capture massive sales.

What's next? Click here to book a complimentary 1:1 action call with our team today.

Chat soon!
What You'll Get
Step By Step Training Curriculum
Get your hands on the exact step-by-step process to grow a profitable Amazon FBA business (each video in my curriculum is only 5-45 minutes long and comes with many reference materials, guides, and templates for you to use and follow)…
Done-With-You Product Validation
Product discovery, product analysis, and product tracking can be difficult without guidance or assistance. I will work with you to help validate any product ideas that you have to ensure proper product selection…
Done-With-You Listing Optimization
Amazon buyers make their buying decision based solely on your product listing content and quality. I will help you create a fully optimized and keyword rich product listing (title, bullet points, description, backend keywords, etc)…
Done-For-You Manufacturer Contact Templates
Contacting and communicating with manufacturers and suppliers requires specific professionalism and phraseology. Use my exact contact templates to sound professional so you can get quick replies and the best prices…
Done-For-You Purchase Order Templates
Don't get lost in the details. A business transaction can have a lot of moving parts. You get purchase order and contract templates that cover all of the bases and protect your interests…
Done-With-You PPC Optimization
Amazon's PPC system can feel alien to a lot of people. Follow my proven PPC campaign strategy and we can work together to optimize your campaigns (keyword research, bidding, budgeting, etc)…
Limited Time Bonuses
Unlimited 1-On-1 Coaching & Mentorship
Reach out to an expert at any time for guidance and help with any questions or problems you have. Let me review every step that you take to make sure you're on the track and growing your Amazon business. You'll receive unlimited 1-on-1 access to get insight and feedback on your progress in real time….
1-On-1 Coaching Calls
Speak to me 1-on-1 by phone or video chat to help shortcut your results. Get answers to immediate problems or even screen share any important details you'd like to discuss.
Students Only Facebook Group
Meet and network with other like-minded and goal-oriented Amazon sellers. Share your results, experiences, ask questions, and learn together as a community…
My Personal Industry Contacts
Work directly with my personal industry contacts and resources including my freight forwarder, inspection company, and more. Avoid wasting time and risk by working with vetted, trustworthy services, and take advantage of referral discounts…
This offer is available for a limited time only
Meet Crescent Kao
---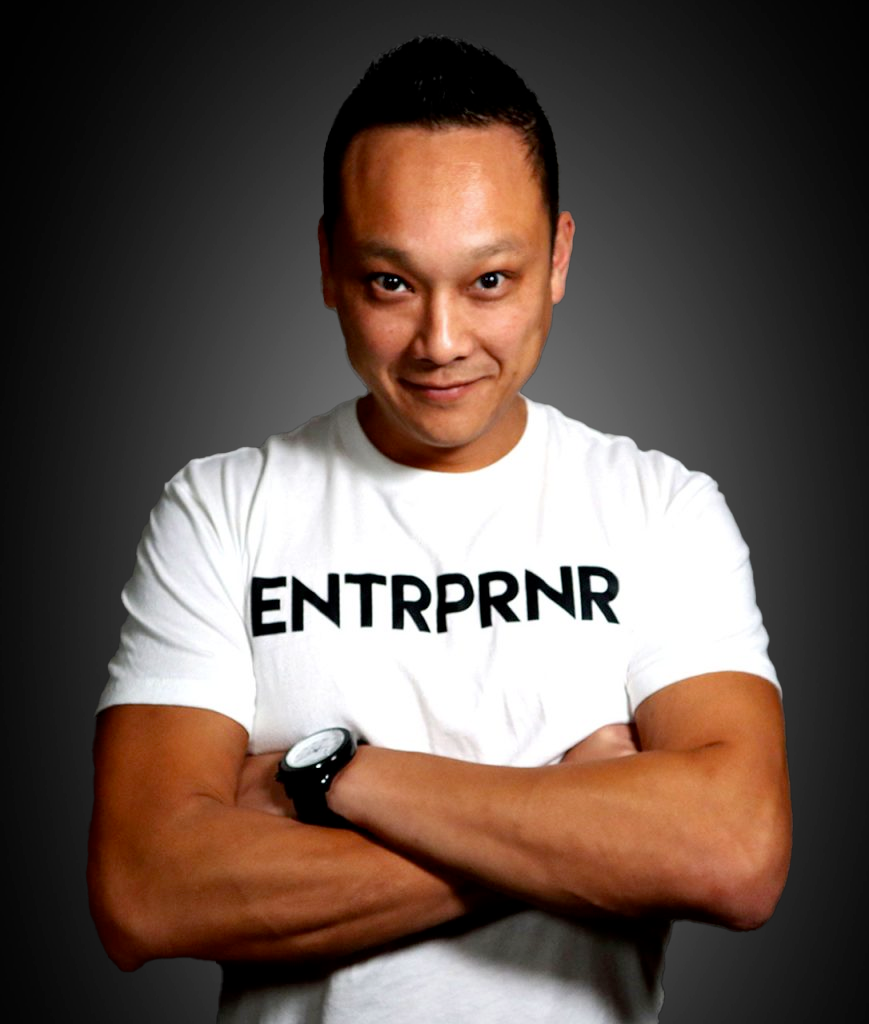 In 2001, Crescent was in college completing his second degree.

He knew that he didn't want to be stuck in a 9-5 career after graduating.

And so while still in school, he was building his first online business.

It wasn't easy and it was a struggle but he launched his business in 2002 and managed to grow it into a sprawling 7-figure business.

Over the years, Crescent has started many online businesses with Amazon FBA being one of his most recent successes.

Today, he's built a massive online community around selling on Amazon with over 80,000 followers where he helps average people grow their Amazon FBA business and fast-track it to profitability using his system.

He's helped people escape their 9-5 jobs and achieve more freedom to do what they want by growing a profitable Amazon FBA private label business.
Don't Just Take My Word For It…
What Do My Students Have To Say?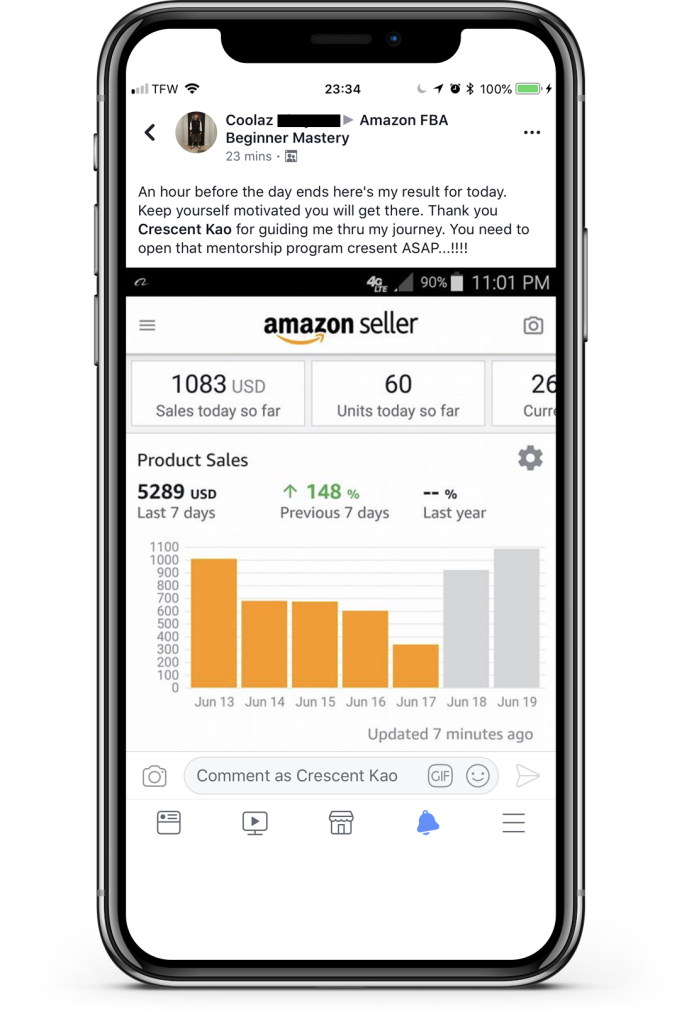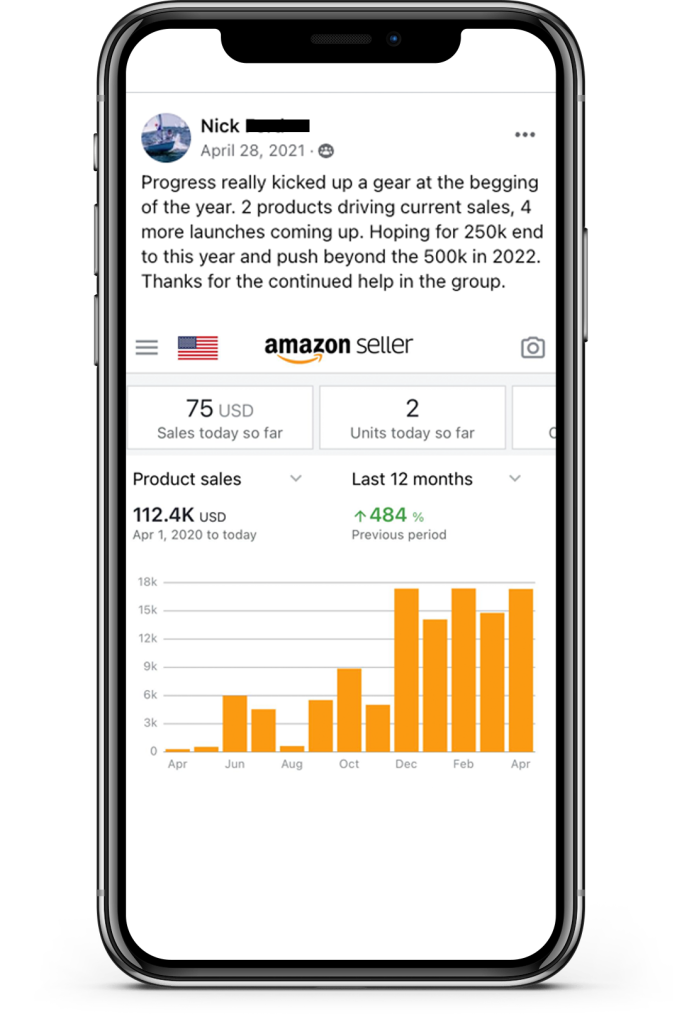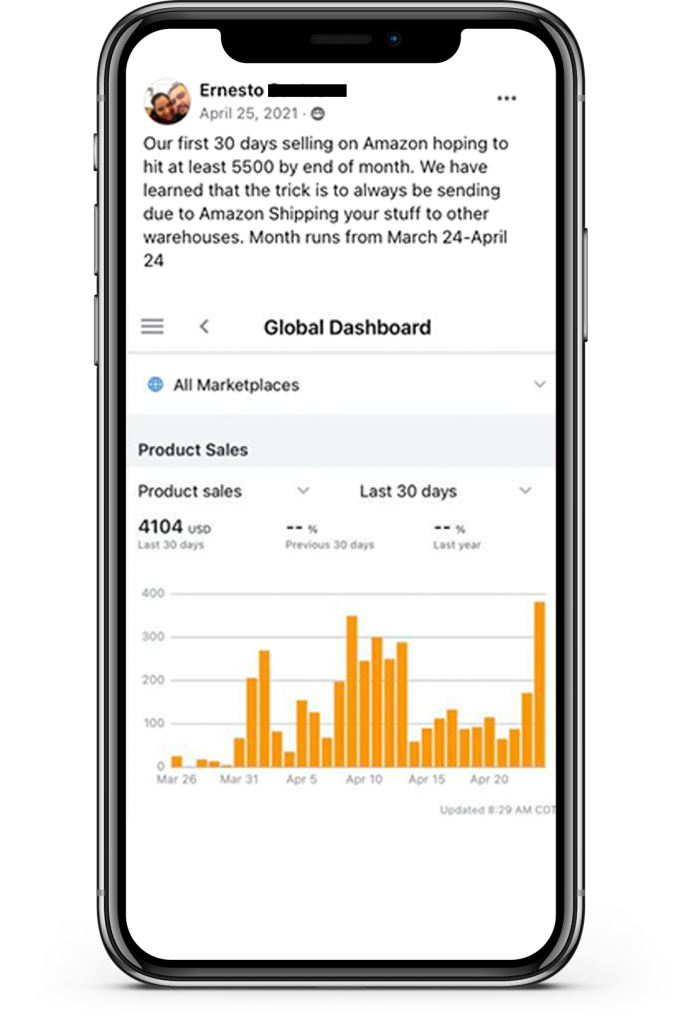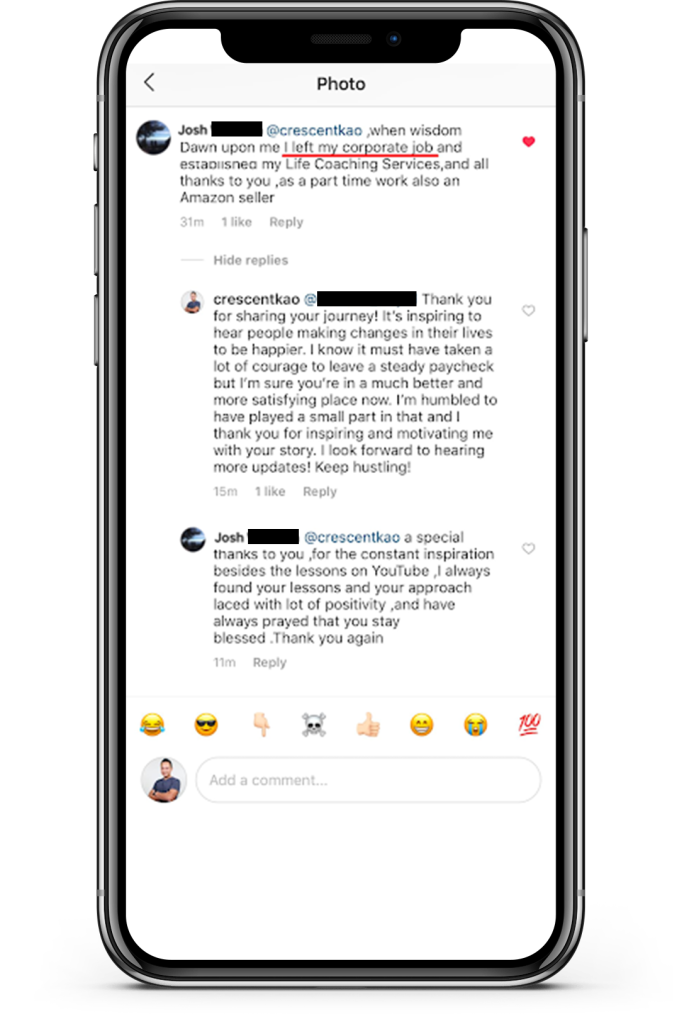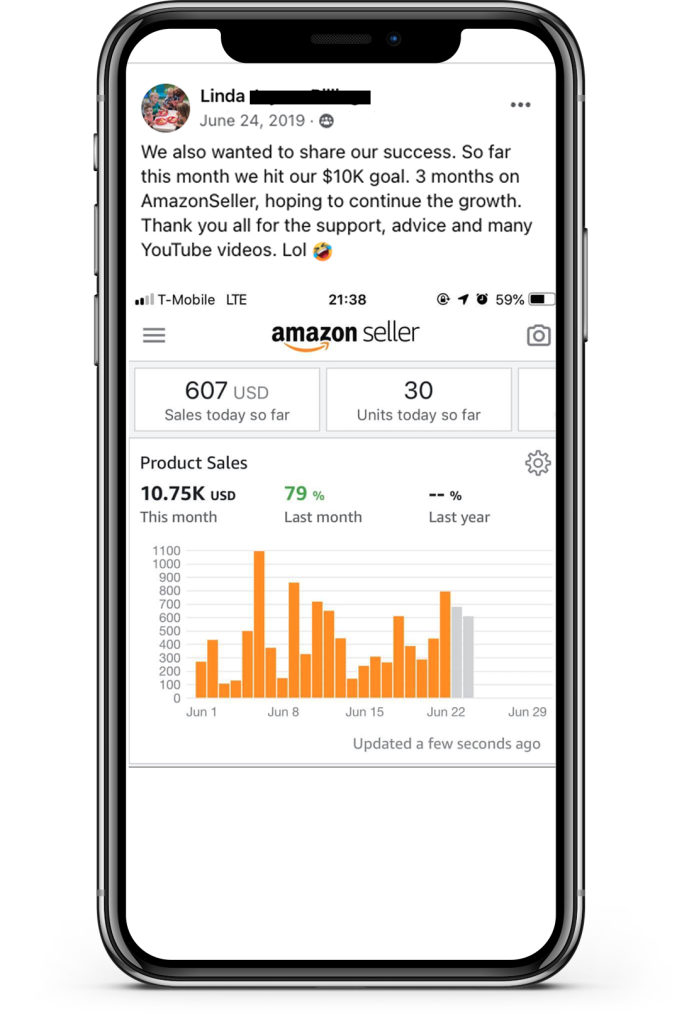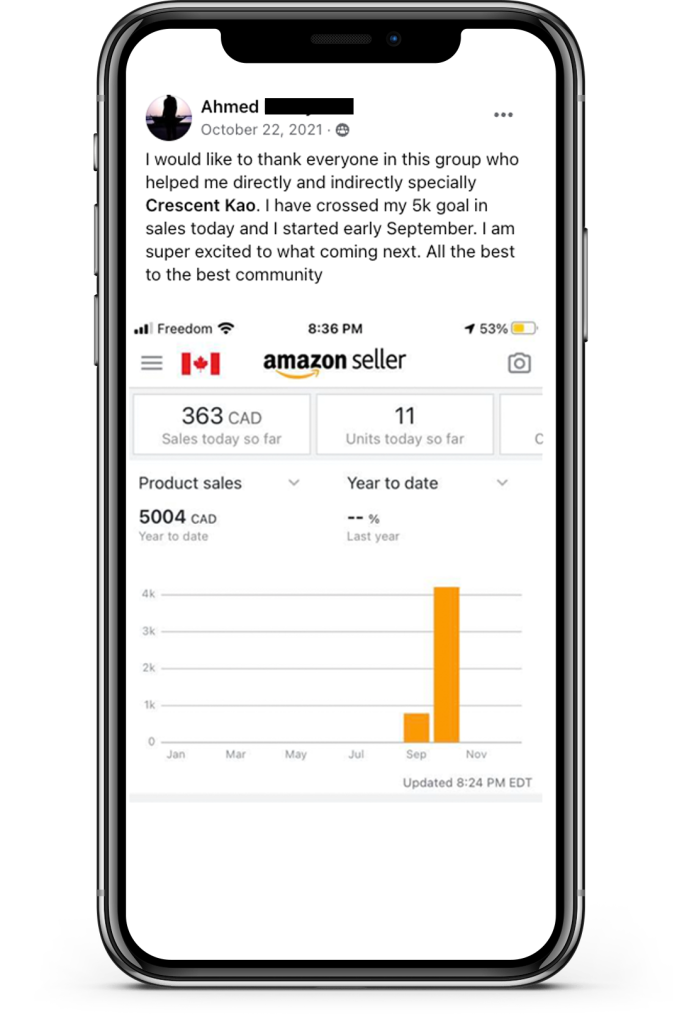 And What These Students Have to Say….
My Method Has Already Helped So Many Average People Around The World…
The Question Is, Are YOU Next?
This offer is available for a limited time only
IF YOU CHOOSE TO WORK WITH ME…
Here's EVERYTHING You'll Get…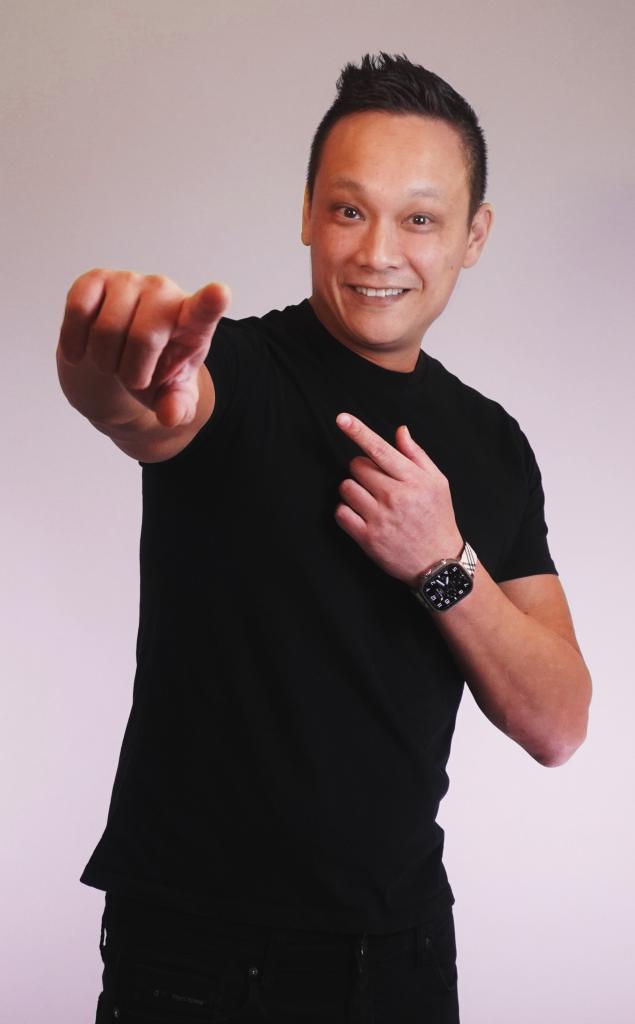 #1: Step-by-Step Core Training Curriculum
#2: Unlimited 1-On-1 Coaching & Mentorship
#3: 1-On-1 Coaching Calls
#4: Product Validation Checklist
#5: Done-With-You Product Validation
#6: Done-With-You Listing Optimization
#7: Done-For-You Manufacturer Contact Templates
#8: Done-For-You Purchase Order Templates
#9: Done-For-You Sales & Profit Tracking Spreadsheet
#10: Done-With-You PPC Optimization
#11: Updated List of Products to Avoid
#12: My Personal Industry Contacts
#13: Student-Only Facebook Group
#14: Money Back Guarantee
This offer is available for a limited time only
Thanks For Taking The Time To Read This! I Look Forward To Speaking With You Soon…

P.S. In case you're one of those people (like me) who just skips to the end, here's the deal:

I started my own successful Amazon FBA private label business that I quickly grew profitable within the first 30 days of launching my very first product. I've since grown a massive online Amazon FBA community with over 30,000 members to help other average people accomplish the same thing.

Many of my students have managed to create a separate source of income with their Amazon FBA private label business that allowed them to quit their 9-5 job and gave them the freedom to do the things they want to do.

At this point, you have two options:

Option 1: Do nothing. Leave this page. *Hope* your business begins to grow.

Option 2: Take a chance. Book a call with me. See if this is a good fit for you.

*Note: This is *NOT* a sales call. I'm only looking to work with specific people and I'd like to find out if we would good fit to work together and I'm 100% certain my process can work for you.

If it's not a good match, I'll tell you and recommend resources for you (whether that's referring your elsewhere or plugging into free resources I provide).

So this call is 100% risk free.

You either don't work with me and we go on our merry way… or you do work with me and I help you grow your Amazon private label business so that you can replace your 9-5 job and give yourself the freedom to do what you want.

Either way, you win.

That being said:

If you are looking to grow your Amazon private label business even if you don't have any experience or never sold anything online before…

Click here to book your risk-free, no obligation, call with me today.

And let's see if we can make magic together.

Chat soon ✌🏼